This page lists all new product as well as important restocks. If you don't see your game on the list, email or call us and we'll let you know the status of that game.

Friday, May 22nd :

Kenzer and Company-Knights of the Dinner Table #220-25th Anniversary Issue!

Osprey Publishing - Across a Deadly Field : The War in the West
new scenarios, mini-campaigns, the pivotal battles of Shiloh, Nashville, Champion's Hill and more.

Cosmic Wombat Games - Stones of Fate
2 to 4 players, ages 13 and up. move your stones, peek at cards, trigger powers and try to be the player who rules the table top. Plays in about 30 minutes

Prolific Games - Flapjacks & Sasquatches : Cup of Joe Expansion
Includes new cards, special dice and new trees add to your F&S gaming experience.

Level 99 Games - Noir : The Deductive Mystery Game (Black Box edition)
2 to 9 players take to the street in a game of cat & mouse. 6 game modes, 50 suspects and hours of excitement.

Fantasy Flight Games - Tigrus & Euphrates
The classic Reiner Knizia board game is back. Updated to include detailed plastic components, hundreds of tiles, revised rules and more.

Transylvania : Curses & Traitors
3 to 6 players, ages 12 and up. Plays in about an hour. Including a modular board, variable player powers, event and power cards the replayability is huge. Travels the wilds, lift the curse and try not to rampage in a reign of terror.

Paradigm Concepts - Witch Hunter : The Legion Cycle
a set of adventures that intertwine with earlier releases to create a lengthy campaign - this pits you against a servant of the Great Adversary. Are you and your team of Witch Hunters up for the challenge?

Evil Hat Games - Dresden Files Roleplaying Game : The Paranet Papers
Updated world information, Las Vegas, the Russian Revolution, The Neverglades and Las Terras Rojas/the Red Lands, the NeverNever explained, new magic, new creatures and a ton more.

Osprey Publishing - new book releases
Weapon # 40 - The Gatling Gun
New Vanguard # 222 - Self Propelled Anti-Aircraft guns of the Soviet Union
Campaign # 281 - The Caucasus 1942-1943
Duel #66 - Panzer II vs. 7TP
Elite # 205 - British Army in Afghanistan 2006-2014
Osprey Wargames - Fighting Sail Fleet Actions 1775-1815
Aircraft of the Aces # 126 - Aces of the Republic of China Air Force
Myth and Legends : Odin - The Viking All Father


Tuesday, May 19th :
Columbia Games - Victory in Europe
Victory in Europe is a game covering the Second World War in Europe from 1939 to 1945. One player commands the Axis powers, the other the Allies.

Players maneuver their armies on an area map of Europe, fighting for control of key victory cities and critical resources. Air, naval, and ground units are all involved. Battles are fought when enemy units clash in the same area.

The early war 1939-1941 is driven by the Axis, but gradually the Allies become stronger and usually take the initiative by 1943. However, the game need not unfold exactly like history. The French may survive 1940, the Germans may invade Britain. Germany may attack Russia in June 1941, or attack earlier, or later, or not at all. The Soviets may attack Germany first which was likely their plan. The USA might enter the war in 1942, perhaps earlier, perhaps later. All of these decisions are made by the players, influenced by Diplomatic events that are controlled by game events. Invading neutral countries such as Norway or Belgium has consequences.

The game uses the 'block' piece idea where there is a fog of war mechanic built into the game showing players where enemy forces are, but not their strength until engaged. Playable with 2 or 3 players.

GMT Games - new (and rereleased) games
Normandy '44 - is a 2, 3, or 4-player, regimental level game of the D-Day landings on June 6th and the battles that raged in Normandy for the next 21 days. Using a simplified version of the Ardennes '44 system, the game includes a 22 turn Campaign game, a 7-turn Tournament Scenario that focuses on the Allies linking up the beaches, and a scenario covering the battle in the peninsula and the capture of Cherbourg. In addition, there are rules for allowing 3 or even 4 players to play the game.

1914, Serbien muß sterbien, The Initial Campaigns on the Balkan Front in WWI realistically covers the battles fought in and around Serbia during the first year of World War One. The game includes three scenarios. Two short scenarios and a Grand Campaign scenario that covers the period from the initial Austro-Hungarian invasion in August to exhaustion a stalemate in December.

Ukraine '43 - This game attempts to simulate this important campaign in a moderately complex game. The design uses the conventional move-fight-exploit sequence of play and the popular Zone of Control Bond rules. Soviet tank armies and German panzer corps spearhead constant attacks and counterattacks. With both sides able to attack, the game becomes a tense battle of skill and nerves.

ZMan Games - Sylvion
The forests of the Oniverse are in danger and it's up to you to defend them. Skillful card play will halt the ravaging Fire Elementals. But are you up to it? Includes the base game and two expansions.

Asmadi Games - Penny Press
2 to 5 players become newspaper barons and strive to rule old New York City. Assign reporters, choose your front page story, attract readers and strive to be the best. For ages 13+ Plays in about an hour.

Fantasy Flight Games - new Armada expansion ships are back in!
Victory class Star Destroyer
Gladiator class
Imperial Fighter squadrons set
CR90 Corellian Corvette
Assault Frigate MkII
Rebel Alliance fighter squadrons set

No Quarter Magazine # 60 - special 10th anniversary edition!


Friday, May 15th :

Dead Man's Hand - new rule expansion and gangs
Down Under Expansion - set in Australia this expansion introduces the Bushrangers, State Police and John Kelley's gang. Three new gangs, 12 new scenes and a whole lot of action. Throw a shrimp on the barbie, give your shelia a kiss and get in the fight!

State Police, Bushrangers and the Kelley Gang - each gang set includes the figures, rules cards and bases you need to play.

Corvus Belli - new Infinity miniatures -
Unidron Batroids, new Combined Army starter set, Rasail Boarding Team

Wyrd Miniatures - new releases
Katana Snipers, Merris Lacroix, Ashigaru, Nekima, Whiskey Golem and the Herald of Obliteration box set Nothing Beast, Tara, Karina, and 3 Void Wretches) - all in stock now and ready to get into the fight.

Privateer Press - new Warmachine and Hordes figures
Khador : Ruin character heavy warjack, Cryx : Revenant Crew of the Atramentous, Skorne : Venator Reivers, Circle Orboros : Wolves / Reeves of Orboros box set, Circle Orboros : Brennos the Elderhorn Saytr character warbeast.

Wizkids Games - Star trek Attack Wing new releases
I.S.S. Avenger, Kyana Prime, U.S.S. Pegasus - all here and ready to hit the table.

CMX Games - Copper Country
2-4 player game where players vie for control of the copper mining in Michigan's Upper Peninsula. Designed for ages 14+, plays in 1 to 2 hours.

Asmodee Games - Elysium
Forge your own legend in ancient Greece. 2 - 4 Players assume the roles of demi-gods, recruiting heroes, gaining artifacts, undertaking quests and trying to claim a place in Olympus. Designed for ages 14 and up. Takes about an hour to play.

Greenbeier games - Heavy Steam Pilot Expansion - 24 new pilot cards to add to your Heavy Steam game.

Toy Vault Games - But Wait, There's More
Pitch the world's craziest contraptions. Pitch the product, explain the features and win your audience over in this 3-10 player party game.

Necromancer Games - new D&D Fifth Edition supplements
Quests of Doom, Volume 1 (1st - 20th level) and Quests of Doom, Volume 2 (4th - 17th level) - Two books with adventures detailed within. 5th edition rules, 1st edition feel. Make sure your sword is sharp and your shield ready.

Book of Lost Spells - A tome of many spells - now ready for the taking.

Fifth Edition Foes - a manual full of monsters for Fifth Edition D&D. Some harkening back to first edition days, others never before seen. From the Aerial Servant to Wood Golems. From trhe Kech to Zombie Raven. It's all here.


Tuesday, May 12th :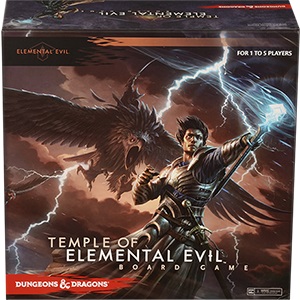 Wizards of the Coast

Temple of Elemental Evil boardgame

1 to 5 players explore the dungeons beneath the Sword Coast. Vanquish monsters, overcome challenges and find treasures.

Can your party Succeed where others have failed?

32 dungeon tiles, 42 plastic playing pieces, adventure book, Encounter, Treasure and Monster Cards, markers, tokens, rules and dice.

From the same folks who brought you the Castle Ravenloft, Wrath of Ashardalon and Legend of Drizzt boardgames.

Wyrd Games - new miniatures
Desolation Engine (in plastic) and Abominations (in plastic)'

Soldier Spy Games - Dragon Kings
This is a new system-free world book explaing the world of Khitus, its history, peoples, flora and fauna. Once benevolent rulers, the Dragon Kings now plunder all there is of value and drag many away in chains for enslavement and worse. This world needs heroes to fight back and save the people. Can you be that hero? A 170+ page hardbound book with everything you need to run this world setting with your favorite rules.

Soldier Spy Games - Dragon Kings Game Screen and Adventure
A four panel hard screen with full color artwork and useful setting information as well as an adventure : New Dune Raiders. This adventure can be used to introduce players to the setting and has information to adapt the world setting to your favorite RPG rules, complete with downloads for the more popular ones.

ZMan Games - Lords of Scotland
2 to 5 players fight to take the throne of Scotland. Muster troops, gain support and rally the clans to ascend to your rightful place. But beware, not every clan is willing to bow down and others are trying to find troops and power of their own to oppose you. Ages 13 and up. This card game takes about half an hour to play.

Alderac Entertainment Group - Patronize
This trick taking card game has players becoming a patron of the arts and science while trying to garner fame and honor doing so. Try to find the best and brightest, advance their work while gaining the glory but be willing to sit back and let them have the spotlight when they need it. For ages 14 and up. 3 to 5 players, Plays in about 20 minutes.

Wise Turtle Games - OVA : The Anime RolePlaying Game
Create your desired character in mere moments, use easy, fast paced rules to have the gaming experience you want. The rules you use can be as easy or detailed as you'd like. Filled with game play examples and inspiring illustrations.

Frog God Games - Bill Webb's Book of Dirty Tricks
Dirty tricks for the GM, designed to supplement your RPG and add that little but of 'fun' to a players day when they think things are going too well. 80 pages of ideas, tricks and nasty pranks to pull in your game.

Palladium Games - Rifter #70
Magic, Monsters, Strange People & Places. New Fantasy RPG items, Splicers source material, Minion War, Rifts and more. Stories, new material, previews and lots more. The source for news, rumors, material and fun for the Palladium Games line.

Sasquatch Game Studio - Primeval Thule Game Setting
A hardbound 270+ page book with everything you need to adventure in the world of Atlantis and Thule. A savage world with bold heroes, ruined temples, savage landscapes, lost cities and more. Be a barbarian from the wastes, a pirate on the Golden Seas, an adventurer, Wizard or more. Includes a world background, an Atlas, character generation narratives, monsters, villains, artifacts, spells, a city write up, game system conversions and lots more. One version of the book uses the Pathfinder system, the other the 13th Age RPG. But you could use this setting with your favorite rules as well.

Frog God Games - Tome of Adventure Design
An adventure creation sourcebook for Swords & Wizardry and Pathfinder. 300+ pages of adventure ideas for helping get fun and excitement to your players on the fly.

Alien Dungeon - New All Quiet on the Martian Front miniatures
British Mono Tanks, Wicket Tank and British Imperial Service Tanks are in!

Frog God Games - Book of Lost Spells for Pathfinder RPG
190+ pages of spells that work into your world as lost magic, guarded secrets or other rare tidbits. In a colorful hardbound book. Indexed alphabetically and by class, each has a full write up to make them easy to integrate into your game.


Gripping Beast
Heorot Great Saga Hall

The Hall of the Stag is a massive Great Hall fit for any King. With great amounts of detail inside and out this hall is awe inspiring.

Made of laser cut MDF and synthetic thatch this will leave jaws dropping in it's wake.

Includes interior furnishings, lift off roof sections for ease of interior play and amazing detail.


Wednesday, May 6th :

Cool Mini or Not - Xenoshyft Onslaught
This Strategic Base Defense deck building game allows you and up to 3 of your friends (i.e. 1 to 4 players) to weather an assault by aliens on your Nortec base. Use the armory, med bay, science labs and other locations to help you deal with the alien threat. Survive the attacks and show them you have what it takes. Ages 13+, playing in 30 to 60 minutes.

Alderac Entertainment - Three Cheers for the Master
2 to 6 players all compete in a minion stacking game in an attempt to appease the Master. The Master is not a friendly type under normal circumstances and in a bad mood it is just... bad. As a Foreminion you must try to rouse his spirits. Get the minions to form towers and try to stop your rival Foreminions from succeeding in doing the same. Watch out for their sabotage attempts and try to be the last one standing. Plays in about an hour or less.

Catalyst Game Labs - Boardroom Backstabs : Battle for Manhattan
Show up in Manhattan for one thing. Money. Lots of folks are willing to pay you to help deal with their problems. You like money and can help them. Seems like a good fit. Bring your skills, wits and guns. Third in the Boardroom Battles series.

Games Workshop - Assassinorum : Execution Force is in store.
A new cooperative board game from games Workshop where your team of Imperial Assassins try to work together to stop a Chaotic Ritual from empowering the Ruinous Powers and plunging the sector into Darkness. With four new plastic Assassin figures, the forces of Chaos, cards, rules, dice and more.

Force of Will Collectible Card Game-
The decks are still MIA, but the boosters are here. Need more cards? Here is your chance. Get this short run while you can.

Ares Games - Sails of Glory Special Ship Packs
HMS Victory - Fully painted HMS Victory, game base, game cards, ship mat and maneuver cards as well as Captain cards for Richard Howe and Horatio Nelson.

USS Constitution - Fully painted USS Constitution, game base, game cards, ship mat and maneuver cards as well as Captain cards for William Bainbridge and Charles Stewart.

Laboratory Games - Shadows of Elder Gods
Arkham is a city with a dark power plotting against it. can you, well up to four of you, work together to find the Ring of Shadows and unite the people of the Miskatonic Valley to stop the fiends plot against you? Ages 13 and up taking about 30 minutes.

Iron Games - Pergamemnon
Carthage, Rome, Egypt, Persia and the Hellenes were the most powerful countries of thier time and this game gives you the chance to pit them against each other in a throw down of deck building proportions. There is no pussyfooting around. This is direct conflict so buckle on your armor, grab your sword and shield and prepare to deal with your enemies! 2 to 5 players, ages 14 and up. Takes about an hour to play.

Wizards of the Coast - Temple of Elemental Evil Board Game is here!

Iron Games - Pax
Escaped rebels are gaining power in Rome and now you need to help restore peace to the lands. But make sure the peace benefits you. That is the most important part. A peace that leaves you at a loss can't be good at all.

Flames of War - Brown Water Navy rules are in

Flames of War - Colours of War
Tips and tricks for assembly, painting, color theory, basing, historical information, color photos and a whole lot more packed into a 88 page hardbound book.

Turning Point Simulations - The Valmy Campaign
A fast playing game of the pivotal battle that started the French Revolution. Not just one battle, but the campaign that proved that revolutionary armies had what it took to stand for themselves. Medium comnplexity.

Turning Point Simulations - First Battle of the Marne - 1914
Can you replicate France's miracle offensive to save Paris and keep France in the war? Medium level complexity with mounted map, battle boards, full color counters and a whole lot more.

Against the Odds # 43 - Islands of the Damned : Wake and Peleliu
A historical magazine looking at island fighting, Napoleon, Pearl Harbor and other topics along with a pair of solitaire wargames. The games themselves are low complexity and play in up to 3 hours.

CGE (Czech Games Edition)- Alchemists
2 to 4 players try to mix potions and be the more heralded Alchemist around. But there is a balancing act. When to buy, when to sell, should you publish your papers about Toads now or wait till you can perfect it? Sell the potion to the big hulking Barbarian or test it again to make sure it really does work? These and many other questions will be raised. And you can download a Ingredient Mixer App to speed play too! Ages 13 and up. Takes about two hours to play.

Arcane Wonders - Mage Wars Arena
It's BACK! Step into the Arena, ready your Spells and prepare to cast your spells at the right time. Become a Wizard, Beastmaster, Warlock or Priestess - all with unique abilities, strengths and weaknesses. Designed for 2 players ages 14 and up. Takes from 45 to 90 minutes to play.


Wednesday, April 29th :


Army Painter - new sets
Shadows of Brimstone : Creatures of the Void premium paint set
10 colors and a brush to paint up your Shadows and Brimstone figures. Fang Bone, Leather Brown, Cynder Yellow, Molten Orange, Crimson Hand Red, Serpent Skin, Jargono Green, Tentacle Blue, Dark Stone Purple and Dark Tone Ink.

Shadows of Brimstone : Heroes of the Old West premium paint set
10 colors and a brush to paint up the heroes. Shadow Black, Spirit white, light flesh, dark flesh, saloon red, portal blue, desert yellow, loot gold, pistol metal and soft tone ink. All in one handy set

Alderac Entertainment - Vorpal Sword and White Gold Spire
Lost Legacy : Second Chronicle, two games that can be played with other Lost Legacy sets or on their own. designed for 2 to 6 players, a game takes only about 10 minutes to play. For ages 14 and up.

Cheapass Games - Stuff and Nonsense
a two to six player game of the Inevitable Aftermath of Professor Elemental's Imaginary Polar Expedition. Wander London collecting items from your (imaginary) journey and prepare to spin your tale of lies when you return to the club. Beware the Professor though, he is an old hand at this and is not easily impressed. For ages twelve and up. Takes about 45 minutes.

USAopoly - BANG! We Are The Walking Dead Expansion
New threats, new weapons, new challenges. If you die, you even get to be a Walker so you aren't even out of the game! All new fun awaits.

Foxtrot Games - Lanterns : The Harvest Festival
2 to 4 players, about 30 minutes to play. Place your lanterns, prepare for the festival and may the best artist win.

Pazio Publishing - all sorts of new items :
Pathfinder Cards : Iconic Equipment 2 - 54 full color cards, fully illustrated in full color, this gear for samurai, gunslingers, witches and others help flesh out special items your party may come across or purchase.

Pathfinder Map Pack : River System
From rocky rapids to a meandering bend, a fallen tree bridge to a rocky ford - 18 tiles in full color ready to add to your adventuring experience.

Pathfinder Flip Mat : Giant Lair
Double sided, full color mats with a giant sized feasting hall and a cavern lair. No need to sketch out that encounter area, now it's here in full color ready for your use.

Pathfinder Players Companion : Heroes of the Wild
Nature focused information from archetypes to adventuring groups, equipment, feats, tips and advice, survival rules and more.

Adventure Path : Giant Slayer - part 2 of 6
A 4th level adventure, a detailed look at drakes, the Mindspin Mountains, new monsters and a bunch more.

Pathfinder : Unchained
New versions of character types, revised to make them easier to use, new skill options, revised combat system, leveling magic items, new monster creation, re-imagining of many other aspects and buckets of material to add to your Pathfinder gaming experience.

Numenera : Weird Discoveries
Ten instant adventures for the Numenera RPG. These include maps, NPCs, a new format, advice on game running, pregenerated characters and lots more.

Wizards of the Coast - Elemental Spellbook Cards
43 cards detailing elemental spells and cantrips.