This page lists all new product as well as important restocks. If you don't see your game on the list, email or call us and we'll let you know the status of that game.

Friday June 22nd:
Well folks - it's been quite the week.
Oppressive heat, driving rain, flooding, leaking roofs, failing gutters and more.
Subsequently I'm just dropping a nice quick update here for you.
If you get the chance, stop on in and give a gander to the new stuff. Buy some if you'd like. We'd appreciate it.

Petersen Games - Sandy Petersen's Cthulhu Mythos
40 new Mythos monster stat blocks asd well as 60 other Mythos monsters that have appeared in the various pathfinder adventures prior. There are also rules on encountering the Mythos fiends, new playable races, new character options and spells. Worried about meeting the Great Cthulhu himself? There is even material about the Great Old Ones, their influence and how they affect the characters themselves.

Osprey Games - Last days : Zombie Apocalypse
A skirmish game of survival horror pitting players against each other in a world where the dead have returned to unlife and are feasting upon the living. Build a faction, prepare to defend yourself and take one hordes of zombies, fanatical cults and rival gangs as you try to obtain ever dwindling resources. The book includes several different scenarios and a campaign that allows your faction to gain experience, abilities, equipment and expand.

Osprey Games - Frostgrave : Maze of Malcor
Some of the ice shelf on the mountains above Frostgrave have collapsed and revealed an ancient school. Trapped in the ice for ages the Collegium houses lost knowledge of more wizard schools. Dare you venture forth to obtain it? This book includes rules updates, new scenarios, a campaign centered around the Collegium, new beasts and hours more fun.

Osprey Games - Frostgrave : The Grimore
All the spells found in the Frostgrave core book, Thaw of the Lich Lord, Into the Breeding Pits, Forgotten Pacts, Frostgrave Folio and Maze of Malcor. A quick and easy guide to every wizards abilities.

Fantasy Flight Games - Star Wars Force and Destiny : Knights of Fate
New content for Warriors, new signature abilities, Force powers, weapons, armor, gear, rules for managing conflict, evaluating enemies, training schools and more.

Decision Games - Strategy & Tactics Quarterly : America in World War 1

Wargames Illustrated # 368 - Napoleon's Generals
What a tanker (Too Fat Lardies WW2 game), tips on MDF terrain, War of Three Kings, Renaissance Rampant (a Lion Rampant variant), War of the Rings : Battle of Pellanor Fields and the Search for El Dorado - among other things.

Fantasy Fight Games - X-Wing Miniatures Game : Saw's Renegades
Includes a customized X-Wing and U-Wing fighters, 25 cards, tokens, dials and rules. Contains X-Wing Second Edition components so you are ready to go when the new edition comes out.

Fantasy Flight Games - X-Wing Miniatures Game : T.I.E. Reaper
A high performance transport the Reaper has excellent atmospheric maneuverability, heavy armor and the ability to deliver elite troops into the heart of battle while providing support with it's heavy lasers. Includes rules, 15 cards, the mini, dial and upgrade pieces to use the Reaper in Second Edition X-Wing.

Privateer Press - New Khador miniatures
Kommandant Sorcha Kratikoff.
Man o War Suppression Tanker
Man o War Strike Tanker
Man o War Command Attachment - Sergeant Dragos Dragadovich
Man o War Command Attachment - Bombardier Officer
Kommandant Atanas Arconovich & Standard
Khador Man o War Theme Force

Fantasy Flight Games - Star Wars Legion : Barricades Pack


Friday June 15th:
Goodman Games - MUTANT CRAWL CLASSICS IS HERE!
Four versions of the core rulebook, from a boring hardback to a leather bound, foil stamped collectors edition.

MUTANT CRAWL CLASSICS ACCESSORY ITEMS
Judges Screen (3 panel, full color laminated cardstock)
A Fallen Star for All (1st level adventure)
Hive of the Overmind (level 0 adventure)
Zero-level Scratch Off Character Sheets (10 pregen characters)

Goodman Games - Fifth Edition Fantasy modules
The Forgotten Hive (1st level module)
Mystery Under the Monastery (4th level module)

Cubicle Seven - One Ring : Oaths of the Ridermark
six ready to play adventures set in Rohan after the year 2955. Complements the material in HorseLords of Rohan.

Pelgrane Press - The Fall of Delta Green
A new Gumshoe RPG book, this standalone book sets you in the world of the 1960s as agents of Delta Green - charged with protecting the average citizen from horrors beyond their world. Nazi sorcerers, alien brain harvesters, ghouls who eat the dead and worse. 360+ page full color, hardbound book.

Lamentations of the Flame Princess - Frostbitten and Mutilated
A great white wild spans across the world where it is said the godess took a bite of the earth. Cannibal giants, wolf packs, trolls, demons and worse rove those wastes. But there must be things they protect, right? What can you find adventuring in these tundras? Charts, tables, source information and more to populate and narrate the frozen areas. Not just for LotFP - but useful for other systems as well.

Cubicle Seven - Lone Wolf Adventure Game- The Realm of the Sommerlund
history and guide to the Sommerlund, background on thier armies, royal family, Kai monasteries, Druids, Crystal Star and mush more. Full color with over 200 pages.

Pazio Publishing -Pathfinder releases
Pathfinder Player Companion : Blood of the Ancients
new archetypes, new spells, vestige bloodlines and more from times long ago. All detailed for you to use now in your PFRPG.

City in the Lions Eye - War for the Crown adventure 4 of 6
A new 10th level adventure, gazetteer of Zimar, information on the Lion Blades, rakshassas, beasts, adventure and more.

Square Enix - Final Fantasy Collectible Card Game
Three preconstructed 50 card decks (Serah, Minfilla and Vann) as well as 12 card booster packs to collect and customize your deck.

Fantasy Flight Games - two new Arkham Horror LCG sets
Scenario Pack : The Labyrinth of Lunacy
Mythos Pack - Threads of Fate

Fantasy Flight Games - Lord of the Rings Deluxe Expansion : Wilds of Rhovanion
New quests, new menace and heroes. Expands your LOTR LCG game options.

Stonemaier Games - Viticulture : Visit from the Rhine Valley
New Summer and Winter visitor cards which changes the complexion of the game. Add new life to your Viticulture game with this expansion

Smnirk & Dagger games - Nut So Fast
A nutty reaction game for 3 to 6 players ages 8 and up. Grab nuts, strike poses and do so faster and better than your opponents. Plays in about 20 minutes.

Friday June 8th:
Ancient Warfare magazine restock is here!

Reaper Bones minis are in stock
Coral Golem (huge figure)
Wereboar, Weregorrila and Werebat is here too.
The dragon Kyphrixis is in - and cast in clear plastic. Yup. Invisible Dragon.

Bones Chronoscope
Wild West Wizard of Oz : Tin man, Lion, Dorothy, Wicked Witch and Winged Monkeys
Pulp Era Naval Ship Captain, Ships Hand, Phyisican, Physcologist, Max Grave (investigator), Jane Porter (victorian Heroine) and Pulp Era Female Pilot too.

Rising Sun and Zombicide Green Horde paint sets are back in.

Reaper Dungeon Dweller - Lanaerel Graylef Elven Archer is here.

Monte Cook Games - No Thank You Evil : I'm A Guide!
40 pages of how-to for kids to learn to run a game, color stand ups to add to the experience, lots of other goodies and a mini-adventure too.

CatDragon Games - I Would Fight the Dragon...
3 to 8 players participate in a game of bluff and bluster, trying to find a way to _avoid- fighting the dragon. The winner is everyone who manages to get out of the heroic death. includes 50 full color cards, rules and fun. Ages 13 and up. Plays in 30 to 45 minutes depending on number of players.

Ultra Pro - Fetch
Help your animal friend fetch their favorite treat as the park _changes_ as you move through it. Hinder your opponent and get your pet to fetch first. 2 to 4 players ages 12 and up. Plays in 20 to 30 minutes.

Fat Goblin Games - Close Encounters : Hyperspace Fiends
rules for interacting with hyperspace, stats for demons you may encounter, two ships from the lower planes and source information. Fully Starfinder Compatible.

Monkeyfun Studios - Spirit of '76 Greatest Hits Vol 1
6 roleplaying Adventures for Spirit of 76. Disco Ambulance, Women's Prison of the Apes, Jukebox Villains and others. Get Down Suckka!

New Osprey Titles
Duel #54 - F4F Wildcat vs A6M Zero Pacific Theater 1942
New Vanguard #258 - Italian Cruisers of World War II
Men at Arms # 518 - Polish Legions 1914-1918

Gamewright Games - Gonuts for Donuts
2 to 6 players ages 8 and up. The pastry picking card game. Bid for your donuts, grab what you can and beware that more than one player bidding on a donut means no-one gets it. Rack up the points, enjoy the donuts and taste victory. 2 to 6 players, plays within 30 minutes.


Thursday June 7th:

Renegade Game Studio - Prowler's Passage

This 2 player game pits players against each other as they scrabble throughout a city trying to find a way to plunder the city from within. Grab the valuables, control city districts and create the longest passages to win the game. Ages 12 and up. Plays in about half an hour.




Breaking Games - King's Abbey

Send you workers out to gain resources, build, go on crusade and defend against threats to your abbey or do other tasks. Make sure you keep the darkness from encroaching upon your domain and create the Kings Abbey. Create enough supporting business and defenses around your abbey to please the king and win. 1 to 5 players ages 14 and up. Plays in 90 to 180 minutes depending on the number of players.



Mongoose Publishing - Traveller : The Great Rift
This boxed set provides you with the Great Rift setting. A traveler's guide, the Corridor Sector, Riftspan Reaches, Afawahisa and Touchstone Sectors (there is a lot of space covered here), worlds and peoples of the Rift, and the Deep Space explorers guide. Explore the deep, dark reaches of the Rift, beware the phenomena you may encounter and those who lurk in the vastness. Includes three giant sized poster maps that cover the Great Rift and the mysterious Phobetor Sector.



Mongoose Publishing - Great Rift Adventure 1 : Islands in the Rift
you are sent to go pick up a starship in the Old Island Sector. Simply pick it up, fly it back for transfer and you are all set. But as you may guess - all is not as it seems. Good luck Travellers.



Asmodee - Unlock! Secret Adventures : Tombstone Express
1 to 6 players work together in this escape room style game to succeed in escaping within 60 minutes. The game is run via app (Android or iOS) and is intended for ages 10 and up. This game is difficulty level 2 (out of 3). The train you are on has precious cargo and you feel your trip will be less than restful. Can you survive?



Asmodee - Unlock! Secret Adventures : The Adventures of Oz
Visit the Wizard, challenge the Wicked Witch and adventure in Oz. 1 to 6 players (ages 10 and up) use this app driven adventure game top explore and survive in Oz. Difficulty level is 3 out of 3. Plays in an hour.



Asmodee - Unlock! Secret Adventures : A Noside Story
Players work together in the cooperative app driven game to foil Noside the Clowns latest plot. Can you bring him down before it's too late? Game plays in about an hour. Ages 10 and up. Difficulty 1 out of a maximum of 3.




Friday June 1st:
Grey Fox Games - Super Hot the Card Game
Strategy, shooter and card game - Superhot's unique game mechanics make for a cinematic combat experience. for 1 to 3 players ages 12 and up. Plays in 15 to 45 minutes depending on the number of players.

Daily Magic Games - 10 Minute Heist : The Wizard's Tower
2 to 5 players move through the tower trying to loot as much as they can. Look out for cursed items, snatch up the best stuff and be the best in the thieving world.

Osprey Games Miniatures -
Oathmark Goblin Infantry - 30 plastic multi-pose models. Arm with bows, spears or hand weapons. banner nearer and officer parts included as well.

Oathmark Elf infantry - 30 multi-pose plastic elf infantry which can be armed with bows, spears or swords and includes parts for banner bearers and officers.

Ghost Archipelago Snake-Men - 20 hard plastic multi-part snake-men ready to be built, painted and added to your game.

EmperorS4 - Herbalism
3 or 4 players take on the role of novice pharmacists, trying to find the cure for a disease by sharing information. But only one of you can be the best - so be careful the ideas you pass along, pay attention to your peers and find the cure. For ages 8 and up - taking 15 to 30 minutes to play.

EmperorS4 - Shadows of Kyoto
Undercover spies battle the Meiji government in Kyoto. As a local commander can you gather intelligence, protect your own interests and come out on top? For 2 players aged 10 and up. Plays in 15 to 30 minutes.

Catalyst Game Labs - Shadowrun : Toxic Alleys
A complete adventure for Shadowrun 5 edition. Can the status quo of tension, distrust and hatred be good? It is if your a law firm. But when ability for groups to reach out and settle these nagging grudges becomes available - well, it's not good for them. Can you and your team defuse the situation while making sure this power goes where it needs to? Here is a brand new challenge for your crew.

Fantasy Flight Games - Star Wars RPG - Force and Destiny : Unlimited Power
Unlock the full potential of the Force with this new supplement. Expand character options, add new signature abilities, new weapons, armor, gear, vehicles, quests and more. Force duels, dark side powers and more await!

Fantasy Flight Games - Netrunner Data Pack : Kampala Ascendent

Fantasy Flight Games - The Sword and the Spirits : legend of the Five Rings Novella and promotional cards for the LCG

Alderac Entertainment - Istanbul : The Dice Game
2 to 4 players roll, take action based on their dice, trade, buy, sell and try to gain rubies in exchange. Can you be the best trader in then town? Ages 14 and up. Takes about 30 minutes to play.

Baba Geek games - Robit Riddle
Players are robots trying to find their little robits (little robot pets). Go through one of the storybook adventures, each with 50 endings and thousands of unique paths. Use story cues, build upon the story with your team and have fun.

Wizkids games - Curio : The Lost Temple
this real time cooperative game tries to solve a slew of puzzles in order to solve an ancient mystery. The game is infinitely replayable as the module-based system uses manipulation, sorting, rotating and searching to solve each step taking you to another. For 2 to 5 players, ages 14 and up. Plays in about 15 minutes.


Wednesday May 30th:
Hope your Memorial Day was well spent.
We are looking at a few more new items that made it in today :

Medieval History Magazine Vol 8/1 - John Hawkwood and the Condottieri : Castagnaro 1387, Longbows, Crusader Sieges, Hyddgen, Faenza, Cesena, mercenaries and more.

Medieval History Magazine Vol 8/2 - Edward the 1st and Wales, Great Castles, about the Buckler, Imjin War in Korea and other articles.

Privateer press : No Quarter Prime #5 - Themed Khador Armored Korps, Blighted Ogrun, how to paint fur, Company of Iron, After Action report, the Gates of Mist, Big Guns and over 100 pages of material.

Miniature Wargames # 422 - Salute show report, Jacobite Rebellion, Soviet Tank Hunting, putting a train on your terrain, WWII in the woods and a K9 Gun Dog sprue from Wild West Exodus - free with the issue!

Hasbro - Han Solo Card Game
Inspired by a legendary card game from the Star Wars universe! In this exciting game, players try to score as close to zero as they can with their cards. At the end of a hand, the best score collects the most valuable bounty token. The player whose tokens add up to the highest value at the end of the game wins. Ages 10+ for 2 to 4 players.

Elzra Games - Catacombs : Wyverns of Wylemuir
The token flicking action goes outdoors with new Area of Effect powers and eight mighty Wyverns to add to Catacombs or Catacombs & Castles. Now you can ride mighty beasts into battle. Defend Wylemuir with new Heroes, Items and more.

CMON - Dragon Castle
Inspired by the tile laying game of Mahjong, Dragon Castles challenges you to pick up tiles from the crumbling dragon castle and use it to make your own. Ask the spirits for help, pay attention to the elder dragon and attempt to grab victory. 2 to 4 players ages 8 and up. Plays in about 45 minutes.

Pazio Publishing - new Pathfinder and Starfinder items in stock
Pathfinder - War for the Crown : City in the Lion's Eye
This 4th episode is designed for 10th level characters and includes the city of Zimar, the Lion Blades organization, deadly Rakshasas, new strange beasts and more.

Ruins of Azlant Pawn Collection
from Ankheg nymphs top Uluuthan - full color pawns to represent the foes in the story arc. Aquatic horrors, bizarre beasts and other unique creatures. All ready to go as soon as you punch them out.

Starfinder : Pact Worlds Pawn Collection
Creatures, Enemies and Starhips - all in full color on hard card. Ready to be punched out and put down to add color and depth to your Starfinder game experience. about 50 ships, small, medium and large creatures and foes.

Pathfinder Flipmat : Carnival
A double sided, full color mat with a stage, seating area and some market tents - the other a bunch of market tents and stalls as well as a small stage in the round with bleacher seats. Coated so dry erase, wet erase, grease pencil and even Sharpies tm,(r) will write on and come off.

Starfinder Flipmat : The Sunrise Maiden Starship
Double sided, oversized mat details in interior of the ship on one side and the exterior of the ship at a starport on the other. Full color and coated so various markers will work fine for temporary or semi-permanent notes.

Genesis of Legend Publishing - Sig : Manual of the Primes
An extra-planar RPG where belief, perspective and relationships are dynamic. includes a stand alone adventure, background on the city of Sig, the 16 planes and lots more.

Robin Laws : Beating the Story - How to map, understand and elevate any narrative.
Track, map and understand the rhythms of a story. Writing, editing or analyzing - this book helps you in dealing with story construction.

Gary Ray - Friendly Local Game Store : A five year path to middle class income
Look at how to start a store - from beginning capital, how to create a unique store identity, inventory management, in store events and a whole lot more.


Thursday May 24th:
Easy Roller Dice Accessories!
We got some back in. Easy Roller 12" Dice trays are back.
with Red, Blue or Black rolling field this spacious tray lets you lob handfuls of dice into a quiet, well corralled area.

Dice Rolling Mats silver or red artwork on black leather
don't want those metal dice dinging your table? Don't want the surface of that table touching your dice? This handy may deadens the noise, protects dice and table top and plain looks neat.

Easy Roller Graphic Dice Tray
and 8" tray with rolling and staging areas, a lid with foil artwork on it a snug fitting lid. A suitable way to carry your dice from house to transport to game. Artwork includes Cthuhlu head, Wolf head, Spell Tome, Raven, Dragon and the Midgard Serpent.



Tuesday May 22nd:

Scale75 - Inktensity boxed set

With Inktense Black, wood, chestnut, violet, blue, green, red and yellow inks




Metal & Alchemy set : Steel Set

With Black metal, Thrash metal, Heavy metal, speed metal as well as White, Cobalt, Emerald and Amethyst Alchemy paints




Metal & Alchemy Set : Golden Set

Necro Gold, Viking Gold, Dwarven Gold, Elven Gold s well as Citrine, Tourmailine, Kunziteand Peridot Alchemy paints




Metal & Alchemy Set : Copper Set

With Decayed Metal, Old Copper, Pure Copper and Victorian Brass as well as Gerney, Ruby, Amber and Moonstone Alchemy paints




Had it before… now it's back…

Dungeons & Dragons : Monsters & Heroes of the Realms Coloring Book

80 pages of black & white versions of many art pieces from the past 40 years of D&D as well as 16 pages of full color original art to inspire you in your colorizing endeavors




Evil Hat Productions - FATE Horror Toolkit

This FATE Core toolkit comes with ways to make scary and effective horror adversaries, ways to make doom feels inevitable but challenging. Modified and Thematic compels designed to help the suspense, new aspect types and a campaign framework to help run horror stories based on teamwork - great for younger players.


New osprey Publishing titles:
Men-at-Arms # 518 - Polish Legions 1914-1919
New Vanguard # 258 - Italian Cruisers of World War II
Duel # 86 - Cromwell vs Jagdpanzer IV (Normandy 1944)
Combat # 32 - US marine vs German Soldier (Belleau Wood 1918)
Campaign # 321 - Tenchtitlan 1519-1521

John Curry - Thomas Allen's Wargames : Professional wargaming 1945-1985
drawing on previously unpublished material this book delves into the startling world of military wargaming -and how simulated games step across the nuclear threshold, how small scale conflicts escalate many other scenarios unseen till now. 330+ pages with well over 30 pages of annotations and bibliography.


Friday May 18th :
ZMan Games - Fae
2 to 4 players assume the role of wayward spirits in the mystic realm of Fae. Have your spirits influence the Druids to come together and score points for you. Designed for ages 10 and up. Takes about 30 minutes to play. Comes with 60 platic druid tokens, rules, cards and more.

Compass Games - Battle Hymn Volumes One : Gettysburg & Pea Ridge
two new brigade level battles using an innovative system where luck plays a lesser role, and realism is elevated even while it's simplicity moves the game along. Command system uses chit-pull mechanics to keep the battlefield realistically chaotic while making two player or solitaire play work equally as well. Includes small hour long battle scenarios as well as full size and campaign battles for more detailed play.

Wizards of the Coast - Mordenkainen's Tome of Foes
a new sourcebook with background information on ancient grudges, dozens of new monsters, new player races and scads more.

Rogue Games - The Stew
an 5e D&D adventure which is a descent into cooking, legacy and a strange cult. Can you determine what's going wrong in town? Put a stop to it? Time to play this scenario, originally designed for Shadow, Spell and Sword - now for 5e D&D.

Studio Tomahawk - Congo : Mungo Mah Lobeh
A story based campaign for Congo. Experience the epic journey of Mark Kingsley, from recruiting your expedition, through six adventures and back home. Includes new characters, animals, optional rules, terrain and more.


Friday May 11th :
New Reaper Bones Miniatures
Shipwreck Revenant, Manticore, Large Air elelemntal, Hangman's Gibbet, Avatar of Wisdom (Giraffe), Graveyard Archway, Death Shroud, Graveyard Columns, Graveyard Shrine, Blackstar Corsair Delta, Blackstar Corsiar Echo - all in stock now.

Fantasy Flight Games - new legion releases :
General Veers - a new Imperial leader - ready to take the field to crush the rebellion.
Snow Troopers Unit - 7 snow troopers, unit and upgrade cards, tokes and rulesheets.

Spidermind Games - EDRPG : Elite Dangerous Roleplaying Game
Each player owns their own customized spaceship, ventures to alien planets, explores, finds pirates and adventures in a exciting galaxy. A deep character creation system and exciting combat mechanics team up to make a game for veterans and new players alike. There is even a system for generating money while your not with your GM. Power up your Cobra MkIII, get your micro shotgun ready and get out there.

Rio Grande Games - Power Grid Fabled Expansion
two presorted Fabled Decks confront players with challenges through 3 consecutive games for a completely new experience. Uses all four maps of both base games.

Mayfair Games - Isle of Skye expansion : Journeyman
Becoming King is easy. Staying King is harder. Time to get help from Mighty warriors, Cunning merchants and Swift heralds to keep your seat. Requires the 2016 version of Isle of Skye to play.

Mayfair Games - Nusfjord - Quick game play and no end of round maintenance make this worker placement and development game a fun time. Plays well with one or two players. Build up the town, clear forest, expand your fishing fleet and take the advice of the elders to make your little town into a thriving city.

Fantasy Flight games - two new LCG expansions
Game of Thrones : Someone Always Tells Chapter Pack
Arkham Horror The Forgotten Age Deluxe Expansion

Kenzer & Company - Knights of the Dinner Table #254 Samurai Hack
64 pages of cartoon, game information, reviews and source material. all for you.


Friday May 4th :
Blue Orange Games - Vikings on Board
Set sail with your Viking clan, put together the best crew, gain valuable merchandise and become the most influential clan in the Fjord. 2 to 4 players, ages 8 and up. Plays in 30 to 60 minutes.

Scale 75 - The Game & Fantasy Colors and Inktesity Ranges are here!
We have the full line of the Inktensity inks (8 different colors) as well as the Game and Fantasy range (48 colors) in stock now.

We also have the following sets :
Creature from Hell, Steam and Punk, Elven Colors, Unnatural Flesh, Shades of Doom and orc and Goblin color sets. Each set comes with 8 different colors.

We have the full Game & Fantasy color set as well. All 48 colors and an Aluminum tray.
The Metal & Alchemy sets (and individual bottles) are expected soon!

Troll Lord Games - Quests of Doom 4 - D&D 5 e adventures
Each is a small, softbound adventure, designed for D&D 5e
QoD4A - The Missing Pin : 2nd level adventure
QoD4B - In the Time of Shardfall : 5 to 6th level adventure
QoD4C - The Covered Bridge : 4 to 6th level adventure
QoD4D - The Hunter's Game : 4th level adventure
QoD4E - Fisher of Men : 6th level adventure
QoD4F - Forgive and Regret : 8th level adventure
QoD4G - Awakenings : 1 to 3rd level adventure
QoD4H - Nightstone Keep : 6-8th level adventure
QoD4I - Cave of Iron : 1 to 3rd level adventure
QoD4J - A Midnight Council of Quail : 4 - 6th level adventure
QoD4L - God of Ore : 3rd level adventure
QoD4M - A Little Knowledge : 5th level adventure
QoD4N - Between a Rock and a Charred Place : 7th level adventure
QoD4O - War of Shadows : 8th level adventure

More Wild West Exodus starter sets are in!

Catalyst game Labs - Dragonfire Adveture Pack : Sea of Swords
30 encounter cards, 12 market cards, 9 magic item cards, 2 character screens, 18 stickers, adventure, adventure : ship and a rule sheet.

Fantasy Flight Games - legend of the Five Rings : Disciples of the Void
Phoenix Clan expansion with 78 new cards (25 cards with 3 copies each and 1 copy of three different cards). Has cards for all clans, but features the Phoenix primarily.

Zafty Games - Pixel Glory
Dungeon-crawling, deck-building, Auction-drafting fun in a 8 bit dungeon for 1 to 4 players. Ages 13+ Plays in about half an hour.

Dever Games - Gretchinz!
2 to 4 players race across the the landscape pitting survival, speed and glory against each other. Play the right cards to get your Gretchin moving where they need to, use weapons and strategy to foil your foes. Ages 8 and up. plays in about half an hour.

Catan Studios - Catan Base Game Wood Pieces.
need a new set of wood pieces for your Catan game? Here you go. Each set is in a single player color.

Fantasy Flight Games - Netrunner Data Pack : Whispers in Nalubaale

Overworld games - Barker's Row
Present Attractions, Seat your Rubes, Make your Attractions more challenging and try to get your seats filled before your opponents. Designed for 2 to 4 players, ages 13 and up. Plays in about 45 minutes.

Z-Man Games - History of the World
3 to 6 players compete from the dawn of history to the twentieth century. A revised version of the Avalon Hill classic game - use technology, leadership an strategy to make your people triumphant in the coming ages. Includes illustrated board, gorgeous components and revised, streamlined rules. Over 190 plastic pieces. Takes 3 to 6 hours to play. For players 14+


Wednesday May 3rd :
Days of Wonder - Through the Jungle and Desert
6 standard and 2 overlord scenarios for Memoir '44. Includes 2 decks of combat cards and maps for the scenarios. From the jungles of Burma to Rangoon as well as Guadalcanal vicious jungle fighting takes you to grips with the enemy. In the desert go into battle as German and US tanks meet for the first time. Participate in the second battle of El Alamein where hordes of armor clash. Maps, scenarios, cards and hours of fun.

Van Ryder Games - Saloon Tycoon : The Ranch Expansion
Take your newly acquired farm land and create a ranch. Get pens, animals, ranch houses and special rooms. Using the same dynamic tile laying mechanics as Saloon Tychoon - the Ranch Expansion adds much deeper play.

Corvus Belli - new infinity items
Infinity : Uprising - a new Infinity miniatures expansion offering background on the JSA and Mercs armies, Sectorial Armies, Dire Foes, updated missions, and seven scenarios - ready to play in normal or Narrative mode. First run of the books also come with a special promotional mini - Mercenary Brawlers

Infinity : JSA Army pack
includes Keisotsu Butai, Ryuken unit-9, Kempeiti, Daiyokai Dengekitai, Oniwaban, Kuge Delegate, Kuroshi Rider - Aragoto Senkenbutai Riku-gun-shoi and Kaizoku Spec-Ops exclusive figure as well as a 80 page book with background and rules, 3 missions, gaming mat, cardboard buildings, templates and dice.

Army painter/CMON - Zombicide : Green Horde paint set
6 colors (Orc skin, Goblin skin, Pale flesh, Crushed skull, Rough iron and Horde shader) to get you the basic colors for your Green (zombie) Horde.

Grey Fox games - Rising 5
1 to 5 players (ages 10 and up), as agents of the United Planets attempt to find the hidden runes to seal the Rune Gate and trap the horrors threatening Asteros. Using a digital app the players work together in this game of deduction and adventure to achieve their goal.

Fat Goblin Games - Cosmic Odyssey : Service Bots and Synthetic Companions
Compatible with Starfinder, this book adds Service Bots and fully-autonomous androids to the game. Backdrops and and plot hooks are provided as well - so if your looking to make more than a string of letters and numbers your robotic buddy - here is your chance.

Renegade Games - Altiplano
In the South American highlands you need to be creative with your resources to succeed. Fish, mine ore, breed alpacas, trade goods, build roads and try to survive in this challenging environment. For 2-5 players, ages 12 and up. plays in 1-2 hours.

Iello Games - Fairy Tale
2 to 4 adventurous players (ages 8+) attempt to maneuver their characters across the board to tell a story as laid out in their book. Read a page, add a tile to your kingdom or move a character. Tell the story and win.

Museum Rush - a game by Rhys ap Gwyn
2 to 4 player game where players race against time to steal treasures while avoiding cameras, guards and their rivals. Plays in 30 to 60 minutes. ages 14+

Alderac Entertainment Group - Space Base
This dice game has players drafting ships into their Base, harvest rewards, influence and use effects and try to become the most powerful. Space Base mechanics keep players engaged at all times, from the first die roll to the last.


Wednesday April 25th :
Cool Mini or Not - Bloodborne : The Hunter's Nightmare Expansion
All new challenges in the form of new monsters and bosses and resources in the form of upgrades are added to the game. More variety, replayiblility and lots more fun.

Pencil First Games - Legendary Creatures
2 to 4 players (ages 14+) compete to be the next Druid of Nature's Grace. Ally with legendary creature, harness their abilities visit magical places and master the elemental realms. Plays in about 30 minutes per player. Full color play aids, unique meeples and lots of combinations make for a game that plays differently each time.

Cool Mini or Not - Lorenzo il Maginifco : Houses of Renaissance expansion
New possibilities for expanding your families influence throughout Renaissance Italy. Conquer new territories, influence new characters, sponsor new buildings, encourage new ventures and use new leaders. New mechanics add even more depth to the game

Pazio Publishing - new releases for Pathfinder RPG

Pathfinder Pocket Bestiary 4 - over 300 new monsters with classic horror creatures, player friendly races, new constructs, familiars, templates and much more.

Pathfinder Pocket Ultimate Magic - new magus base class, new caster options, feats and magic abilities, spell crafting, new spells and more in a pocket sized tome.

Pathfinder Campaign Setting - Nidal, Land of Shadows - it's history, the fall into Zon-Kuthoon's grasp, adventure sites, a bestiary of shadow creatures and an in depth gazetteer. Lots of information to play in Pathfinder's official world or use these blighted lands for your own campaign.

Pathfinder Adventure Path : War for the Crown : The Twilight Child
chapter 3 of 6. This 7th level adventure explores the city of Yanmass, caravan hub of northern Taldor. Explains the servants of psychopomps, resurrection and how it impacts the peoples (and gods) of Golarion. New beasts, loads of action and more.

Starfinder : Dead Suns chapter 5 : The Thirteenth Gate
a 9th level Starfinder adventure, featuring technological relics, worlds and cultures of five never seen before races, statistics and deck plans for a Devourer starship and even more.

Cool Mini or Not Zombicide products :
Zombicide Black plague expansion tiles : expand Black Plague and Wulfsburg with these 11 tiles and token punch board.

Zombicide Green Horde -1 to 6 player cooperative game where players try to survive when a horde of zombie-infected orcs come to take over their lands. Band together with other heroes to roll back the green tide and deal with the necromancers who have spawned this foul army. For ages 14 and up. Plays in a bit over an hour.

Knight Models - second edition Batman Miniatures Game
all sorts of new villains and heroes. 2nd ed rules are back, book of magic is back and so are some starter packs too.

Wild West Exodus - is in store!
We have rules, a few starter packs, a few two player starter packs and more.


Tuesday April 24th :
Reaper Miniatures - new Dark Heaven releases
01614 - Con Crud Convention Zombie
03765 - Highland Heroine
03838 - Sakarat, Goblin Wizard
03839 - Vampire Lord (classic cloaked vampire)
03840 - Graveflesh Servant (male)
03841 - Graveflesh Servant (female)
03842 - Sethis, Mummy King
03843 - Aurelio Endrino, Bonehange Captain
03844 - Damaris Walmund, Duskwarden Captian
03845 - Mina, River Widows Captain
03846 - Vatanis, Maggotcrown Capitan
03847 - Kelainen Darkmantle, wizard
03852 - Armored Goblin Boss (plate mail & axe)
03853 - Female Vampire
03854 - Female Mummy Queen
03855 - Graveyard Finial : Skulls (3)
03856 - Townsfolk : Courtesan
03857 - Townsfolk : Milk Maid
03858 - Townsfolk : Sage
03859 - Townsfolk : Cooper
03860 - Nimbar, Female Elf Necromancer
03861 - Talynth, Female Elf Barbarian
03862 - Shardis, Female Elf Rouge
03864 - Belthual, Elf Chronicler (armed with a whip)
03865 - Brairlings (2)
03866 - Bryn, Female Half-Elf Rouge
03867 - Aletheia Edair, Female Duelist
03868 - Sir William the Peacemaker
03869 - Ankoa, Barbarian Hero
03870 - Dire Penguin

Warlord Games - Blood Red Skies is here!
The starter set pits Spitfire vs Bf-109 in combat above England during the Battle of Britain. Comes with 12 aircraft, rules, dice, tokens and everything you need to dogfight using this new, dynamic system using advantage and morale as well as skill, traits and doctrines.

Warlord Games - Blood Red Skies aircraft sets
Each set has 6 aircraft, 6 bases, aircraft card, trait cards, pilot skill disks, aircraft markings sticker sheet and action cards. The nationality/aircraft are :
US - P-51D Mustang, UK - Spitfire MkII, German - Bf-109E, Soviet Union - Yak-1, Japan - A6-M5 Zero

Warlord games - Blood Red Skies Aces packs :
Each pack has an aircraft miniature, stand, aircraft card, trait cards, ace card, ace skill cards and skill disks. The different Ace pilots are :
George Preddy (US), 'Sailor' Malan (UK), Adolph Galland (Germany), Lydia Litvyak (Soviet Union) and Saburo Sakai (Japan)

Osprey Books - two new historical books
Duel #77 - Bazooka vs Panzer : Battle of the Bulge 1944
Campaign # 319 - Imphal 1944 : Japanese invasion of India

Rio Grande - Broadhorns
Players (2-4) take on the role of merchants in St. Louis, arranging cargo expeditions along the Mississippi during the early 19th century. Finance trips, obtain boats, purchase cargo, haul passengers and try to make the most you can before the year comes to a close. Ages 14+ plays in 60 to 90 minutes.


Thursday April 19th :
Wizkids - Endless Pass : A Viking Saga
2-6 players attempt to gain glory defeating the Endless in a deep pass. Help the gods, gain glory and await Ragnarok. Ages 14 and up. plays in half an hour. Includes 6 player boards, trackers, game cards and play aids.

Arcane Tinmen - Dragon Shield Art Sleeves
Standard sized card sleeves, each set adorned with art of a specific dragon. Sleeve colors are black, white, red and blue and feature a different artist. Box is 100 sleeves.

Fantasy Flight Games - Realms of Terrinoth
A fantasy campaign system for the Genesys RPG system. Includes the history of Terrinoth, from the fall of the Elves to the rise of the Dragonlords. Character creation for Orcs, Elves, Catfolk, Dwarves and Gnomes. New character careers, Heroic abilities, new weapons, gear, crafting rules, magic rules, a gazetteer of the lands and a whole lot more.

Troll Lord Games - Castles & Crusades : By Shadow of Night
Bergholt, a once proud city, now a backwater of merchants and thieves. In these pages are details about the city, a rich cast of NPCs, an adventure that adds to the Death in the Treklant series and more. The adventure can be used as a standalone adventure if you desire.

Chaosium - The Eleven Light
The Red Cow, Volume II. You are heroes from the Red Cow clan. Fend off Chaos, wrewolves, other tribes and peril in this campaign that takes you through the occupation of Sartar by the Lunar Empire in 1618 to it's liberation in 1625. A year by year outline helps to guide events as well as 20 complete adventures and tons of adventure seeds. Two complete Heroquests are featured that will have your PCs changing the world.

Osprey Publishing - new historical books
New Vanguard #257 - Technicals : from the great Toyota War to special forces.
Campaign #320 - Brittany 1944 : Hitler's final defenses in France
Combat Aircraft #124 - Short Stirling units of World War 2

Fantasy Flight Games - Mansions of Madness : Sanctum of Twilight
Two new scenarios that feature the Silver Twilight Lodge. New investigators, new spells, new items as well as a new threat... the Wraith.

Fantasy Flight Games - Star Wars Force Pack - Promise of Power

Osprey Wargames - Outremer Faith and Blood
a skirmish level game pitting Crusaders against the Saracens. Usable for one off skirmish encounters the rules are designed for an ongoing campaign of scenarios and encounters - growing your force from a small handful of loyal soldiers to a powerful warband. by Jamie Gordon

Osprey Games - Burrows and Badgers
A skirmish game of anthropomorphic animals.m Northumbra is a land in turmoil. Mice, badgers, toads and other animals wear armor, weild swords and other weapons and cast spells. in this realm ruined villages, haunted forests and misty marches play host to desperate struggles and brutal ambushes. This is a narrative based skirmish game where your warriors gain skills, abilities and artifacts in a battle for survival.

Dud Games - Maximum Security
an expansion for Magic Maze adding 13 modules to add security measures, new hero abilities, 42 achievements and far more fun. 13 new mall tiles, 45 guard pawns, a Beholder on a plastic stand, various tokens and fun.

NEW - REAPER DARK HEAVEN MINIATURES, DARK SWORD CRITTERS & more

More new Vallejo tools are in. Pin Vise, sanding sticks, files, saws, knives & more.

New Mindjammer RPG items from Modiphius
Children of Orion : The Venu Sourcebook
The bright empire of Venu - the interstellar 'bad guys' of human space. An ancient xenophobic bunch of human supremacists bent on cleansing the cosmos of those who aren't them. Includes history, the Dark Radiance, character information, campaign info and a whole bunch more.

The Core Worlds : The Heart of the New Commonality of Humankind
Background and history of the sector of space, planets, cultural regions, genotypes and Old Earth, Old mars, Green Moon and more.

Mindjammers Player's Guide : Adventuring in the New Commonality of Humankind
All the rules tro create & play characters in the universe. Any character. Up to and including a sentient starship. Descritptions and history of the New Commonality, starmaps, homeworlds, genotypes, Minscape, virtual worlds among other things.

Mindjammer Companion : Thoughtcasts from the Outremer subsector
History and background of the subsector, starship generations and operation on the frontier, economic systems, the Heritage Contestation Octant, maps and 30 new worlds.

Symbarium Ability and mystical power cards are here!

Pencil First Games - Sunset : A picturesque game
Paint landscapes in this 1 to 4 player game. Get off the beaten track, find the base landscapes and find your inspiration. Plays in about 20 minutes. Ages 8+

Purple Duck Games - Tyranny and Manipulation
A sourcebook to help GM add that level of terror and fear into the game. Includes base classes, 75 new feats, two dozen new spells, Mutations, hazardous environments and more for the PFRPG.

Odd Bird Games - Feudum
You've been banished from your lands, left begging for scraps with but a few shillings in your pocket. Time to reinvent yourself in this new game. 2-5 players (aged 12+) compete to pull themselves from obscurity. Hand optimization, resource management and a nifty economic system make this a game the for ages. Plays in 2-3 hours.

Modiphius Entertainment - Infinity : Adventures in the Human Sphere
10 independent adventures from Sol to the Human Edge. New adversaries, in depth maps, Wilderness of Mirrors objectives, adveice on extending the scenes and adventures so the missions become a springboard for your campaign.

Troll Lord Games - 5e Adventures : A Lion in the Ropes
The aged Lord Galveston needs your help. Wild beasts, restless undead and worse plague the area. Unriddle the adventure and discover the truth.


Friday April 13th :
Busy, busy times. Getting geared up for Little Wars, trying to finish lots of little projects and having -all- sorts of fun.

But, along with all our fun is this... new stuff!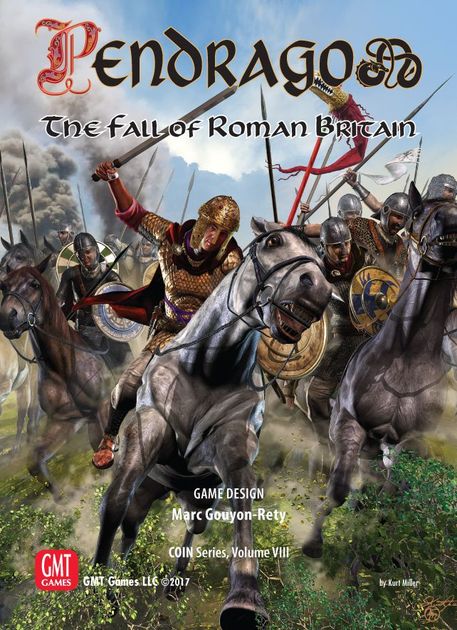 GMT Games - Pendragon : Fall of Roman Britian
Latest of the COIN games. 1 to 4 players attempt to keep the land of Britain under British control as Saxons, Picts, Vikings and Celts all eye the island nation and it's failing Roman military and infrastructure. Can you keep the invaders at bay? Medium complexity, high solitaire suitability.


Fantasy Flight Games - Game of Thrones Chapter Pack : The Faith Militant

Muse on Minis - new 2d terrain.
To go with their gaming mats they now have several 2d full color printed packs to add to your game.
Buildings and Rubble Pack
Forest and Hill Pack
Objective pack
Hedge and Wall pack

Muse on Minis DT dials - dials to show your vehicles hit point, army command points or whatever. Multiple sizes and capacities available.

Muse of Minis Measuring Set - Small, medium and large bases, measuring sticks and lots of useful templates.


GMT Games - two new MBT expansions

MBT : FRG - West German Tank to tank combat in Germany of 1987. Includes Leopard 1 and 2, Marder, Jaguar, Tornado, Luchs, Gepard and PAH-1. New maps, new scenarios and a bunch more.

MBT : BAOR -British tank to tank combat in the late 80s in Germany. Chieftain, Challenger, Warrior, Scimitar, Scorpion, Lynx, Harrier and lots more equipment is included in the expansion. New maps, scenarios and more.

Ninth Level Games - Bearicades
1-4 player game (ages 14+) Forest themed tower defense card game

Stronghold Games - Dungeon Rush
3-5 player (age 8+) real time dungeon delving card game.

Bezier games - Werebeasts
3 to 10 player (ages 14+) card game of collecting Werebeasts

IDW Games - Outpost Amazon
2-6 player (ages 12+) card game of escape, exploration and collection in the jungle

UltraPro games - Shards of Infinity
2-4 player deckbuilding game (ages 10+) of destroying opponents or reality mastering

Game Salute - Black Orchestra 2nd edition
1 to 5 player game (age 14+) of conspiracy and assassination of Hitler

USAopoly Games - Thanos Rising : Avengers Infinity War
2 to 4 player cooperative game (ages 10+) where heroes try to defeat Thanos. Stop him from gaining the Infinity Stones and ruling the universe.

New BONES minis from Reaper. Fire and Frost Giants, scenic pieces like sacrificial altars and caskets and a bunch of monsters and characters.


Friday April 6th :
So it's been another chaotic week of fun here at the store.
But we've got a few new things in for your gaming weekend fun :

Looney Labs : Anatomy Fluxx card game
Interstellar Stories - Seven Worlds : Savage Worlds Sci-fi setting & campaign books

Pinnacle Entertainment Group - The Goon : Savage Worlds book
gangland horror, zombie Noir, slapstick campaign setting

Pinnacle Entertainment - Fear Agents - a new scifi setting book and campaign based on the comic series. Pulp action, horror and military action all in one.

Monkey Fun Games - Spirit of '77 RPG
70's pop culture RPG. Kung-fu, truckers, rockers and sleuths. A gritty glam RPG.

Spirit of '77 - Wide World of '77 - Three adventures for the RPG

Fantasy Flight Games - To Fight the Black Wind
Arkham Horror novella and exclusive cards for the LCG

Ganesha Games - Four Against Darkness : Treasure Hunters of Charlemagne
new scenario pack. need both the 4AD and Four Against the Abyss rules for play

Renegade Games - CLANK! The Mummy's Curse expansion

Compass Games - Empires & Alliances World War One Across Europe
Medium complexity, High Solitaire suitability Corp level wargame

GMT Games - Metz 1870
Franco Prussian War - two battles that were pivotal to the conflict in August of 1870. Brigade level. Medium complexity and solitaire suitability.

Renegade Games - Sabordage
Be the first to arrive at Blackbeard's Treasure Hideout. Build your ship, protect it from attacks and deal with your opponents. 2 to 5 players - ages 8 and up.

Final Frontier Games - Rise to Nobility : Future of the Five Realms
1 to 6 players, ages 14 and up. A dice placement game - build up your town, gain glory, become lord of the lands and take over the Stone Council. Plays in about half an hour per player.

Cubicle Seven - Adventures in Middle Earth : Eaves of Mirkwood & Loremaster Screen
4 panel screen, 32 page adventure, pregenerated characters, optional rules & more.

Iello - Decrypto
3-8 players, ages 12 and up, plays in about 30 minutes. Transmit secret codes to your team and try to intercept your opponent's.

Wizards of the Coast - new Magic the Gathering
Masters 25 set, Challenger Decks and Elves vs Inventors Duel Decks

Knight Models - moer new 2nd edition miniatures including Ben Affleck Batman

Goodman Games - D&D Into the Borderlands B1/B2 hardback is in.

Plaid Hat Games - Crystal Clans
2 players (ages 14+) fight in the combination board/card game

Catalyst game Labs - Shadowrun : Dark Terrors Plot Sourcebook
Plot updates, hooks, critter stats, campaign infromation and an immersive style - all ready to use with Shadowrun Fifth Edition and Shadowrun Anarchy

Goodman Games - Dungeon Alphabet (harcover, leatherbound or KS edition)

Goodman Games - Dungeon Crawl Classics : The Tower of faces (level 6 adventure)

Final Frontier Games - Cavern Tavern : Secret of the Five Realms
Worker placement game where you serve drinks, work the kitchen, do chores, help customers and keep your boss happy. Additive mechanics allow bigger rewards for bigger investments but less diversification. 1 -6 players. 14+ About 30 mini/player


Friday March 30th :
Fantasy Flight Games - new LCG expansions
Arkham Horror : Dim Carcosa Mythos pack - Scenario VIII of the Path to Carcosa arc.

Game of Thrones : Sands of Dorne deluxe expansion
This expansion adds House Martell to the game. New characters, events, locations along with plots and attachments get added to the game. Also includes new cards for all other factions as well as some neutral cards in the game making this a handy add-on for all players on the Game of Thrones LCG

Steamforged Games - Dark Souls Card game
1 to 4 players take part in this cooperative deck evolution game. Explore, defeat foes and deal with the bosses. Beware, your cards are your life so as you progress you will need to husband your resources to overcome the final challenge. Everything you need to play is included in this game.

Pazio Publishing - Starfinder : Pact Worlds
This hardcover book contains a gazetteer of 14 major worlds, starships, six new playable races, player options, feats, spells and more. 200+ full color pages. Find out about the Absalon Styation, the jungles of Castrovel, the worldship Idari and ever so much more. A great resource for players & GM alike.

Strarfinder Flip Mat - Space Station
This double sided mat features a park-like commercial area on one side and a industrial area on the other. Both in full color and specially coated so you can use china markers, wet or dry erase markers - even permanent markers - and remove them with ease. Don't waste time drawing maps when you can play on a flip mat.

Pathfinder Player Companion - Merchant's Manifest
Look at the 17 key merchant hubs of Golarion, the wondrous item that passes between them, new magic items, armor, weapons and information about the markets you might find them in. New archetypes and class options add depth to the merchants, their employees and the families tied to them.

Pathfinder - Songbird, Scion, Saboteur : War for the Crown book 2
a 4th level adventure continuing the War for the Crown saga. A gazetteer of Meratt county, new rules for relics, cults of personalities, new monsters and more.

Wizkids games - Pools and Pillars - new prepainted terrain
a box set with pillars, torches, pools, braziers, statues and more. prepainted and ready to simply pull out of the box and play.

Pathfinder Flip Mat - Forest Fire
a double sided map with a forest fire raging among a remote bit of forested lad, the otgher a small settlement threaten by a wild fire. Both in full color and specially coated so you can use china markers, wet or dry erase markers - even permanent markers - and remove them with ease.

Kobold Press - Wrath of the River King
a 5th-7th level adventure for D&D 5e. Can you unravel the truth behind the disappearance of the miller's wife, deal with the danger to the town of Riversbend and manage to tell the tale?

Fantasy Flight Games - Star Wars Age of Rebellion : Fully Operational
The engineers sourcebook for the Star Wars. Adding Motivations, Duties, species and specializations for the engineers. Customize equipment, gain new weaponry, gear and vehicles, GM help for running an engineer based campaign and more.

Alderac Entertainment - Smash Up : That 70s Expansion
Disco Dancers, Kung Fu Fighters, Truckers and Vigilantes abound in this new expansion. A solid offering from the 70s... for today.

Chaosium Inc - Peterson's Abominations
Five Epic Tales of Modern Horror. A collection of one shot scenarios, each designed for multiple nights of play. Includes GM advice for getting the most out of the scenario, pre-generated investigators and scads of action and horror.

Ulisses North America - TORG
The High Lords have come to Earth to steal it's energy and use it for their own ends. But special individuals - Storm Lords have special powers to oppose them. Can you hold back the forces that have banded together to destroy your world?
a new 280+ page full color hardbound book, new dice, adventures and more. A classic RPG is back and ready for action.

Asmodee - Sherlock Holmes Consulting Detective : Carlton House & Queen's Park
10 new cases for Sherlock Holmes Consulting Detective. Includes everything you need to play inside this stand alone expansion. Map of London, case booklets, newspaper, London directory, 3 supplementary maps, rulebook and clue envelopes.


Thursday March 29th :
FFG - Legion Miniatures Game
Rebels vs Imperials in this new miniatures game from FFG. Command your troops using your chosen leader. Everything 2 players need to experience the battlefields of the Rebellion Era. Luke Skywalker, Darth Vader, Stormtroopers, Rebel Troopers, walkers, speeder bikes, terrain, tokens, rulers and more.

Expansions include AT-ST, Stormtroopers, 47-Z Imperial Speeder Bikes, Rebel Troopers, T-47 Airspeeder and Rebel AT-RT. Ruler and dice expansions are available too.

Privateer Press - new miniatures
Cryx Black Ogrun Ironmongers and Blighted Trollkin Bloodgorger Command Attachment

Cryptozoic - AMC Walking Dead : No Sanctuary Board Game
1 to 4 players take the role of iconic survivors in this cooperative boardgame, contending with Walkers, other players, deal with Rivals, maintain the stability of the group and try to stay alive. Includes 50+ plastic figures, map, cards, rules and more.

Kobold Press - Midgard Campaign Setting, DM Screen, Players Guide (Pathfinder) and Heroes Handbook (5e) are all out now!

new setting for both D&D 5e and Pathfinder. The setting book is system neutral - the GM screens and guidebook are for whichever rule set (5e or PFRPG) you want to use. Midgard is a world of dark roads and deep magic Match wits with Baba Yaga, sail to uncharted islands with Minotaur corsairs, face giants in the icy north and forge great tales of your adventure. With myriad character races, and variants of standard ones as well as upgrades for classes, spells, backgrounds and more. A new, exciting world for you to adventure in.


Wednesday March 28th :
Ganesha Games - Sellswords & Spellsingers
A new cooperative miniatures game from the makers of Song of Blades and Heroes. Players compete not against each other - but against the scenario while working together in this new minis game. 1 to 6 players create an adventuring party, cards (printed separately) deal with events, monster actions and more.

Ganesha Games - Buried Secrets : Solitaire Cleric Adventure
A new Four Against Darkness scenario designed for a Cleric. Part of the Gathering of Four campaign. A series of 5 scenarios to be played as the Heroes come together to meet the final foe and a quartet. Can you defeat the Chaos Sorcerer whose Undead are ravaging the countryside? Take the challenge and find out.



A new line of paints. Vibrant pigments, dries flat. We have a selection of the boxed sets currently, should be getting more, along with the individual bottles in the coming weeks.

Ors & Goblins, Colors of Nature (Greens set), German Vehicle Camo (WW2), SS Camo I, SS Camo II, US Army & Marine colors, Ribbons, Medals & Reward set and Fantasy & Games 'Makeup' exotic color set as well as the WW2 Tank starter set with brush, sanding stick, 2 resin 1/100 scale tanks, paints and instructions.

Relicblade miniatures game

A new fast paced, beginners skirmish miniature game. Assemble a party of adventurers to oppose the horrid pigmen in this game. Includes miniatures, rules, cards, rulers, dice and everything 2 players need to participate.




Karma Games - Clans of Caledonia
1 to 4 players (ages 12 and up) try to help Scotland of the 1800s transition from an agricultural economy to an industrial one. Create trade and exports, import wisely and be the one with the most wealth and fame. Plays in about half an hour per player.

MGB LLC - Dice Throne
Choose a hero to command, use dice to activate abilities, upgrade those abilities, play cards to alter game play and defeat your opponents to take the throne. Play 1v1, 2v2, 3v3 or free for all. Ages 8 and up. 2 to 6 players. About 30 minutes to play.

Z-Man Games - Carcassonne : The Tower
This new expansion adds a physical tower to draw tiles from (holding up to 180) and the ability to build and capture towers in game to protect and capture meeples. 18 tower tiles, 30 tower floors, 1 cardboard tower.

IDW Games - Missile Command
3 to 6 players (age 14 and up) create (and break) alliances, fire missiles and try to be the last one standing in this game of diplomacy, strategic planning and missile fire. Plays in about 45 minutes. Includes city tiles, player screens, missile, nukes, interceptor tokens and more.

Stronghold Games - Noria
2 to 4 players try to create trading empires through use of flying islands, ships, factories and special projects. Includes a unique scoring system which rewards good play, put the Action Wheel to good use and try to be the wealthiest empire.

Looney Labs - get the MacGuffin!
Make use of your limited hand to get a hold of the MacGuffin. Will you manage to keep hold of it until the last card hits the table? Designed for 2 to 11 players, ages 8 and up. Plays in 5 to 10 minutes.

Twilight Creations - Zombies!!! Bag o' Hearts and Bag o' Bullets
75 Hearts or 100 bullets to add a third dimension to your game.

Greenbrier Games - Burger Up
Build burgers of Epic proportions in this card game of customer service. Fill orders, earn money, upgrade your joint and haul in the money. Ages 14 and up. Plays in about 45 minutes. 2 to 4 players.

Quick, Simple, Fun games - Celestia
2 to 6 players explore Celestia, revealing dangers as you explore cities. Decide where you disembark to hoard your treasure or wait and hope you get more into your sack before the airship crashes. This push-your-luck game plays in about 30 minutes. Designed for ages 8 and up.